Antarctica Photography Workshop – fly to antarctica- avoid the Drake
Feb 16 – 25, 2022
Antarctica Photography Workshop Fee $2495
Cabins – Double $17,995 / Single $24,995 
(Your price varies based on the cabin you select.)
Email seth@digitalphotodestinations.com
–
Fly To Antarctica
We fly from Punta Arenas, Chile to Antarctica's King George Island and back, eliminating days of travel in the challenging waters of the Drake Passage. (Our special luggage  limit is 25kgs/55lbs.)
The Plane / The Boat
We make the 3-hour flight from Punta Arenas, Chile to King George Island in a BAE 146 aircraft. Embarking on the Ocean Nova one of the more stable and comfortable boats in the fleet, we cruise the Antarctic Peninsula south of the Antarctica Circle.
WHY CHOOSE DIGITAL PHOTO DESTINATIONS ?
Over 50% are return customers
we offer true workshops not photo tours
our daily master classes blend technique and creativity
our small groups are personal (18 on this trip)
we create communities and longlasting friendships
we celebrate diverse perspectives
we help you take your vision to your next level
we make dreams come true
combined experience over 50 years teaching  and 5000 alumni
you'll find….
new amazing images
new useful skills
new diverse perspectives
new great friends
learn by doing
The Locations
The Antarctic Peninsula & Crossing The Antarctic Circle
We'll visit the highlights of the Antarctic Peninsula – Deception Island (sailing into an active volcano), Paradise Bay (gliding in its mirror-like waters), Neko Harbor (walking above a calving glacier), Lemaire Channel (sailing through mountain peaks at sunset), Plenneau Bay (exploring an iceberg graveyard) and many more.
And then we'll sail past the Antarctic Circle, to the last-explored and least-known realm on earth. Here's your chance to join the select few who've crossed that final border, into a world where the sun never sets. This will be a trip of impossibly long sunsets as we approach the line where the sun only skims the horizon but is never lost from sight. We're going late in the season so channels and bays that would otherwise have been ice-locked will be open to us and calving glaciers will be berthing icebergs the size of city blocks. Penguin chicks will have hatched and will be moving from their nests. Seal and whales will be plentiful.
Important reminder: Embracing the unexpected is part of the legacy – and excitement – of expedition travel. There are no guarantees that we can achieve everything we set out to accomplish. A measure of flexibility is something all of us must bring to a voyage. There are nearly 200 recognized sites in the Antarctic Peninsula and South Shetlands and the places mentioned above may be changed to others equally as interesting as weather and ice conditions dictate.
Map
The Itinerary
Flying over Cape Horn and the mythical waters of the Drake Passage, ANTARCTICA21 takes you to one of the most spectacular and remotest places on earth – Antarctica. Sail to the far south, and be one of the few adventurous travelers to cross the Antarctic Circle.
Day 1
ANTARCTICA21 staff welcomes you in Punta Arenas, Chile. Transfer to your hotel and attend a briefing that provides important information about your voyage and reviews the essential guidelines for Antarctic visitors. A welcome dinner introduces you to the local gastronomy as you meet fellow adventurers from around the world.
Passengers should plan to be in Punta Arenas at 15:00 hours, at the latest.Pick-up at the Punta Arenas airport and transfer to the hotel cannot be guaranteed for travellers arriving later than 15:00 hours.
Day 2
A smooth two-hour flight takes you efficiently from Punta Arenas to King George Island, in the South Shetland Islands. Your Antarctic adventure begins as you exit the airplane and the clear Antarctic air fills your lungs for the first time. Explore the area surrounding Chile's Frei Station and Russia's Bellingshausen station, before boarding a Zodiac to embark your expedition vessel.
Day 3 – 8
Sail along ice-filled fjords and among spectacular icebergs, while enjoying the company of seabirds, penguins, seals, and whales. Visit the South Shetland Islands and the western coast of the Antarctic Peninsula, disembarking by Zodiac each day. In small groups, hike to extraordinary sites and take part in exploratory Zodiac excursions to otherwise inaccessible areas. Expert polar guides share their passion for Antarctica through an engaging program of illustrated presentations and lead you ashore to interpret the wildlife, the history and the many wonders of the Antarctic environment. From the glass-enclosed lounge, enjoy spectacular views while sharing your daily adventures with fellow guests over a drink.
The goal of the expedition is to sail far south in the attempt of reaching the Polar Circle. The Expedition Team sets the specific voyage route based on local conditions and takes advantage of the ever-changing opportunities provided by Nature. Flexibility will be the key to a successful voyage. Your expedition may include visits to sites such as Port Lockroy, Petermann Island, Paradise Bay, the Lemaire Channel, Prospect Point or other magnificent places.Each voyage is unique and each is crafted to provide the best possible overview of the varied Antarctic environment.
Day 9
Back at King George Island, bid farewell to Antarctica as you board the flight to Punta Arenas. The program ends upon arrival at the airport in Punta Arenas.
Transfer to the city will be available for passengers staying overnight in Punta Arenas. One complimentary hotel night in Punta Arenas is offered upon request on Day 9 of the Travel Program.
Having made six Antarctic voyages, each time surprised by how different the light and weather are, we find ways to improve our Antarctica experiences every time and are dedicated to making this a once in a lifetime experience.
The Program
This is more than a photo tour, this is a workshop! This is a unique opportunity (for no more than a few dozen people, with a 1 to 10 participant/leader ratio) to visit one of the most amazing places on this planet led by world-renowned photographers – John Paul Caponigro and Seth Resnick and special guests – who will help you boost your artistic vision, and creativity. Creativity, composition, exposure, workflow, and post-processing are only a few of the topics presented. You'll be able to participate in all regularly scheduled public cruise events plus our private presentations. We'll have Zodiacs dedicated to our photography group only with one instructor guiding each boat. We'll work closely with the crew to shoot in the best times at the most beautiful places. Most importantly, we'll work closely with you to help you make the most of the adventure and get the best results possible. You'll benefit tremendously from our advice, guidance, lectures, demonstrations, reviews, special pre and post voyage webinars and one-on-one attention – plus the camaraderie of like-minded talented participants. You'll experience world-class locations, world-class accommodations, and world-class guidance.
Find out more about Antarctica in this informative video.
Preview John Paul's book Antarctica here.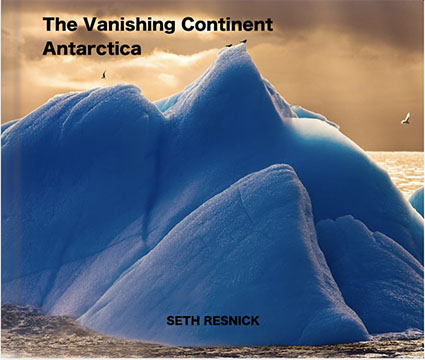 Preview Seth's book Vanishing Continent here.
Gallery
Enjoy images from our most recent adventures.
Seth Resnick
John Paul Caponigro